Perverse Family review
back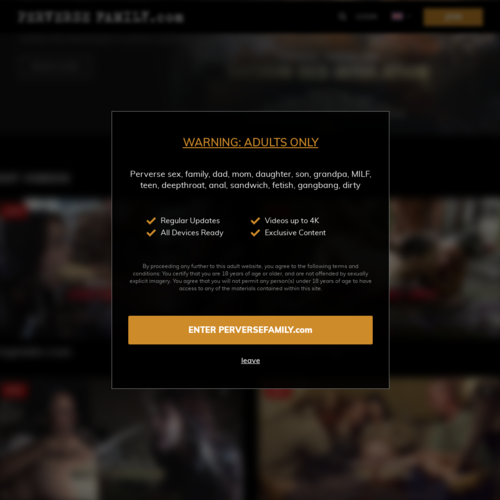 Perverse Family
PerverseFamily.com is a very new site; the domain wasn't even registered until 2018. They haven't had much time to really grow or blow up the Internet yet, so it's too early to say how big they'll get. One thing is certain, though: this site offers a completely different product than any other taboo paysite out there.
The text on the warning screen included a jumble of keywords that gave me a boner, made me hungry, and gave me a good laugh. See if you can spot anything weird about this search-engine-optimized block of word salad: Perverse sex, family, dad, mom, daughter, son, grandpa, MILF, teen, deepthroat, anal, sandwich, fetish, gangbang, dirty. Yeah, it looks like PerverseFamily may be serving up lunch with their incest porn.
I clicked my way in and realized they may be onto something. I could certainly work up an appetite on the marathon wank sessions this kind of smut can fuel. This is some seriously depraved shit, which is right up my alley.
The featured movie at the very top is a scandalous piece of trash called Daughter All-In. The daughter in question is a tattooed slut on a dirty kitchen table, clothes off and legs bent back behind her head. It's not immediately clear who's dicking her, who's holding her down, and who's got his dick out, waiting for his turn. The blurb sets it up as daddy's poker night.
There's a button to watch the trailer, so of course, I'm in. The preview opens like a horror flick, with lightning flashing behind an old house. We're introduced to the mother, Suzan, smearing a mud mask on her face in front of a mirror. Charlie, the father, snacks on a sausage while Anna, his daughter, swings on a swing positioned inexplicably over the stairs.