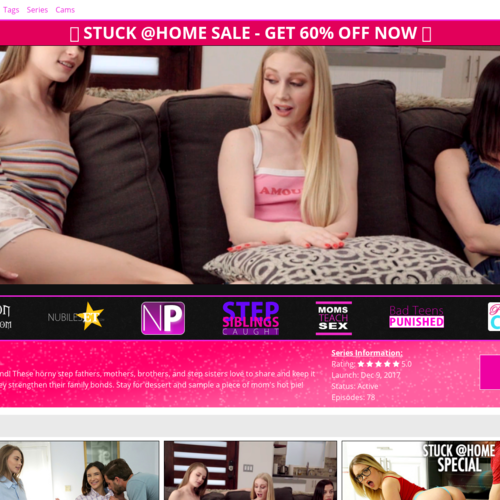 MyFamilyPies
FamilyPies has a semi-regular release schedule. You usually get a new, exclusive taboo movie with hot bitches role-playing as family members every week or so. Sometimes you have to wait longer, even up to a couple of weeks.
You impatient motherfuckers and daughter lovers are probably getting your panties in a bunch right now, but settle down. The archive stretches back to 2017, so you've got at least 50 episodes of high-quality taboo smut to choose from right now.
They're asking the usual premium sex price of 30 bucks a month. That release schedule might be a little questionable if it was all you got, but the membership actually includes access to 17 sites on the Nubiles Porn network. However you slice it, that adds up to a huge fucking pile of hardcore pornography that updates at least 13 times a month across the network. Have you visited your Viagra dealer lately?
It's worth noting nowadays that a Nubiles Porn membership includes unlimited streaming and downloading. Get a bulk rate with a long membership, or just sign up every once in a while and save the whole collection to your hard drive.