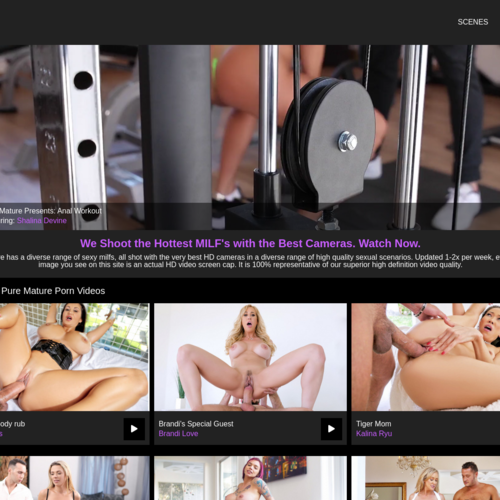 Pure Mature
Porn MILFs are the fucking best. Some of these video sluts have fucked hundreds or thousands of dudes throughout their careers, honing talents that you'll pop raging wood to the moment you see. I wonder how some of these porn studs last as long as they do getting their cocks sucked by the practiced mouths of the world's hottest cougars. Half of you fuckers are going to blow a load in the first couple minutes of viewing PureMature.com, but don't worry; there's plenty on the menu worth coming back for.
Your mom could probably tell you a thing or two about how popular old sluts are, or you could just look at the traffic numbers for PureMature. They get almost 10,000 visitors every single day because perverts want to gawk at these mature babes getting it on. The landing page alone is a veritable smorgasbord of moms you definitely want to fuck. I bet a lot of cheapskates just get their rocks off to the free stuff out front, but for others, it's going to be too fucking hot not to take a more in-depth look.
When I visited the site, a video montage of nasty, hard fucking played at the top of the screen. It stars blonde porn cougar Brandi Love, following her adventures as she gets felt up poolside and then takes it inside, where she proceeds to take it inside. There's the obligatory blowjob scene, which leads to some excellent doggystyle action. The camerawork is the kind of nasty that I love, with solid views of her puckered asshole as she takes it from behind.