50 Plus MILFs review
back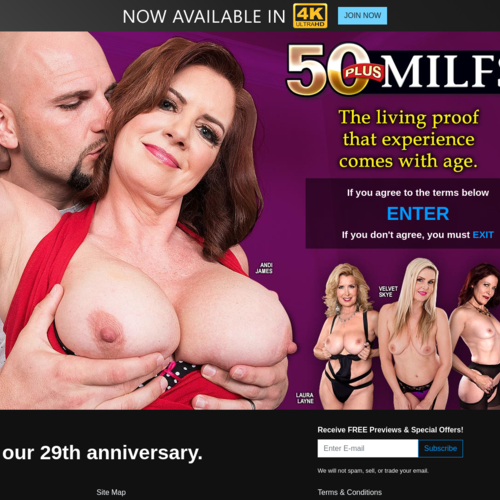 50 Plus MILFs
50PlusMILFs.com has been in the MILF porno business for a long fucking time. They just celebrated their 27th anniversary, which means the original sluts from the website have long since graduated into GILFhood. They're constantly restocking the shelves with gorgeous mature broads with overactive libidos, which is part of the secret to their everlasting longevity. Even after all these years, they still get almost a million visits a month.
According to the motto on the preview screen, Real XXX Begins at 50! Now all you young whippersnappers out there have something to look forward to besides needing to take Viagra, Cialis, and Rogaine. It seems like a bullshit claim, but the old ladies all over the page seem to be having a pretty goddamn good time.
There's this gray-haired slut named Jynn getting hammered with some BBC from a former student. The photos show her cramming that monster cock in her mouth before getting her ancient pussy all stretched out. This broad is 50 years old, just barely making the cut if they're serious about the name. It's almost like 18-year-olds losing their virginities on other premium porn sites. Happy birthday, grandma!