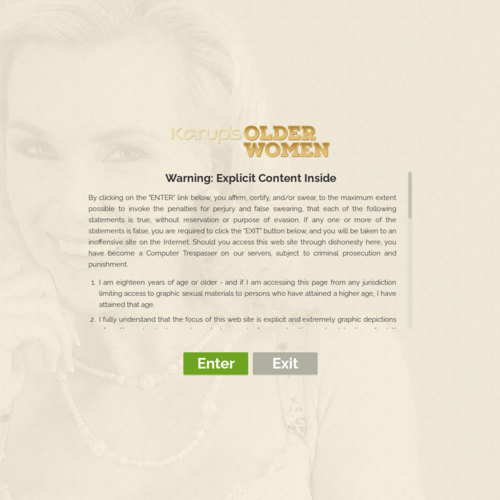 KarupsOW
I pulled up the landing page for KarupsOW and got a big, raging stiffy almost immediately. Images from some of their newest, most popular features slide across the top of the page. There's a blonde mama eating dick and a redheaded older bitch getting her shaved cunt speared. One of the flicks is called Better Than Your Brother, a title that brings up as many questions as it does erections.

Further down the page are thumbnails from some of the newest exclusive flicks on the site, shot and released in 4K ultra-HD. There's a big-titted cougar on her knees playing with herself, and a MILF getting fucked beside the Christmas tree in Carol of the Balls. A couple of lesbians are scissoring in the thumbnail for Teacher's Pet. On hover over, the two sluts eat each other out on a couch without bothering to put down a towel to catch the inevitable pussy juice explosions.
KarupsOW focuses on the titular OW. If you're fucking retarded and haven't figured it out yet, that stands for Older Women. They seem to have a broad range of mature babes, from soccer moms in their late twenties to ripe cougars in their forties, and a handful of genuine GILFs who may well be in their sixties but are holding up well. I'm looking at you, Amy D.
I see a handful of recognizable sluts like Kagney Lynn Karter and Casca Akashova pleasuring themselves for the camera, but most of the babes on the front page are relative unknowns in the industry. The vibe hovers between professional and amateur; the video screengrabs show solid production and pornographic camera angles, but the babes seem like genuine housewives and soccer moms getting a little bit playful. As a serious fan of seeing the mom next door getting pounded with cock, I couldn't wait to get in and see more.