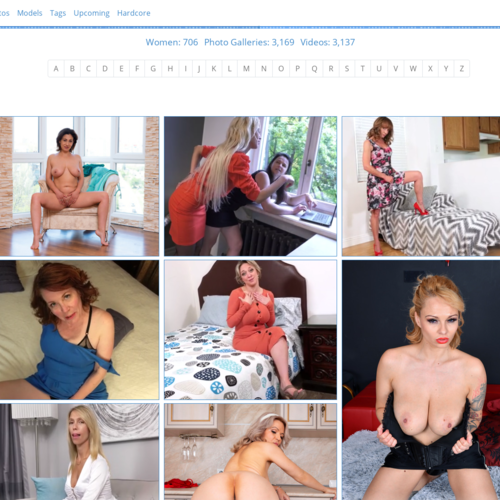 Anilos
There's something about a MILF fingering herself on a kitchen countertop that makes it seem like she's right at home. I guess the same thing can be said about the old redhead rubbing her pussy for the camera in a bedroom in the third row. These cougars and housewives have the sexual experience to feel confident anywhere, and it fucking shows in how they carry themselves. There's nothing sexier than a sexy slut who knows she's hot as fuck!
Scroll down the page a little bit, and you'll see some recent Anilos models. They've got a lot of big names in MILF porn, not to mention some of the hottest up and comers. See, ladies? It's never too late to start a career in the porn industry, provided you've got a great body, a pretty face, and a strong desire to get nasty on camera.
I love the variety you've got to select from. There are older Asian broads like Lira Kissy and redheaded beauties like Charlie Forde, Tammy Jean, and Beau Diamonds. Jerk off to MILFs like Dee Williams or GILFs like Lillian Tesh. Blondes or brunettes, skinny sluts, or thicker whores, Anilos has them all when it comes to mature exhibitionist chicks.
Thumbnails for recent movies grace the bottom of the landing page. It looks like a lot of solo scenes are coming out every couple of days. I'm usually happy if a premium site puts out a new movie every week, but these guys are putting out a new mature porno every couple of days. Nice!