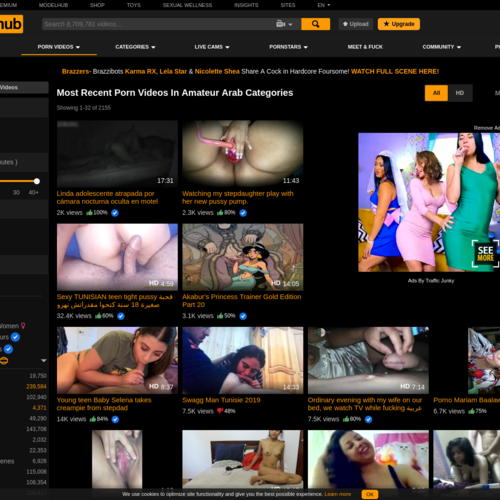 PornHub/Arab
Arab porn section of PornHub
If you are looking for good Arab porn, you probably will get on PornHub in its Arab section. This is one of the most popular and big free porn tubes on the web. Millions of people consider it as an iconic one. Many people started their Internet porn adventures with this site. Of course, it's one of the best sources of adult content and Arab porn isn't an exception. You can find here as many Arab sex videos as you want. The almost endless collection will never leave you indifferent. Watch tons of Arabic porn from the Middle-East. You get a chance to see Muslim women in forbidden sexual acts with no limits. That is why we love PornHub. It has a nice layout, a lot of useful features, a giant community, and a perfect video player. All of us trust PornHub and visit it if other sites get boring.
When you enter the Arab page on PornHub, it offers this week's most viewed Arab porn videos in Egypt. Of course, you can switch filters. First of all, I should say there are tons of low-quality homemade Arab porn. Some of the scenes are bad. You will not see anything but someone's leg and hear nothing but some noise. If you want to avoid such shitty videos, better turn on the HD filter. What else? You can choose any county from the list or the whole world. Do you want to see videos from all the time or maybe just for the last month? You can indicate it in filters. Of course, most viewed, top rated, the longest, hottest, and newest filters are available, too. Next thing that we see on the page is "Arab is frequently combined with:" and a list of tags like Anal, Big Tits, Teen, Amateur, Lesbian, MILF, Creampie, Verified Amateurs, Asian, and Babes. Those are, probably, the most popular porn niches. PornHub gives a wonderful possibility to combine categories. It is very useful when you are looking for something specific. At the left hand, we can see even more options for searching the appropriate videos. Choose from professional or homemade production, the duration in minutes, premium or free videos, straight or gay content. Also, there are such options like Live Cams, Popular with Women, Verified Amateurs, Verified Models, and Virtual Reality. There is a long list of categories that you can choose below the other options. I think sorting and searching system of PornHub/Arab is the best that can even exist. Those guys know how to please the users of their tube. Mind Geek Company has created an amazing online project.
Of course, you will meet a lot of gorgeous Arab girls for all tastes. Petite teens and voluptuous MILFs from Arabian countries are waiting for your attention. Amateur girlfriends and professional pornstars can impress and excite you a lot with their sexual skills. What can be better than en endless collection of Arab porn movies? Muslim bitches expose their natural boobs, seductive asses, and always juicy vaginas. They like to make their partners happy. Arab sluts suck hard dicks, give handjobs, titjobs, and spread legs for their lovers. Unstoppable husbands, boyfriends, and fuckers do their best to make alluring Arab chick moan of pleasure in front of the cameras. They perform spectacular scenes and aren't going to stop. What can make you horny? Maybe, a sweet lassie who takes her clothes off and masturbates alone. Or it's a chick, who gets indulged in passionate gangbang. Everything depends on your tastes. Of course, you will meet some incredible Arab pornstars when searching for Arab XXX content. Mia Khalifa is the most popular of them, I think. Big-breasted hottie is a very naughty girl. She works with the most popular studios and porn actors. Watch how hot she is in action. Also, many real girlfriends from Arabian countries show their treasures and boast about excellent sex skills. You will enjoy your time on PornHub/Arab for sure. Bitches from Turkey, Iran, Chad, Egypt, Morocco, Qatar, Syria, United Arab Emirates, and many other Arab countries are always hungry for sex and have dirty fun with no limits. They aren't afraid of performing forbidden action on camera.
Wonderful video player on this popular tube has some extra features besides Full screen, large window, and resolution settings. You can use Hotspots to skip to the most intriguing scenes. Click on blowjob, double penetration, doggystyle or something else and watch the hottest moment immediately. You will have a great experience and reach full satisfaction on in Arab section of PornHub. It's impossible to find a bigger collection of Arabian sex videos. Just avoid videos of low quality uploaded by some silly amateurs. PornHub/Arab is easy to browse and it has thousands of free porn to enjoy!