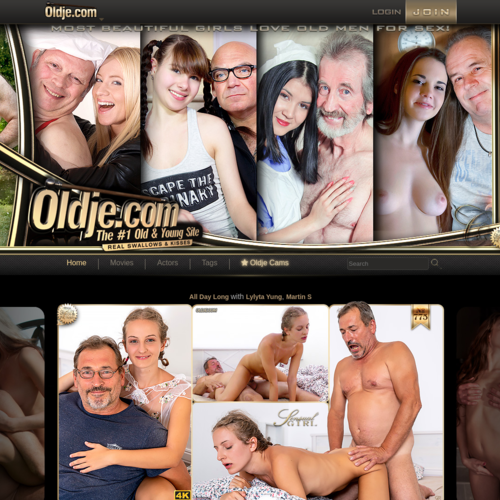 Oldje
Oldje.com bills itself as "The #1 Old and Young Site," with "Real Swallows and Kisses." Old guys smashing ripe young things has been their gimmick since they started putting out movies back in 1992. Corrupting the youth is a time-honored and time-tested tradition, enabling Oldje to maintain a solid standing in the world of old fogey porno. These days, the site gets around a million visits every month.
A lot of words come to mind when you land on the front page of Oldje. You'll instantly want to call these photographic previews sexy, downright erotic. I think nubile when I look at these pretty girls and beautiful women, and I think ancient when I see these wrinkly bald dudes with their hanging jowls and liver-spotted skin. Creepy is the word many would use to describe these couplings, but what do they know?
I've got to say, for really old dudes, they've sure got hard wieners around here. Thank God for Viagra, I guess. Now grandpa doesn't have any trouble at all getting up for girls like Abigail Johnson and Ava Black. You should see what these elderly guys are packing, and what they're doing with that meat!
The preview images show gray-haired guys plunging their penises into youthful young blondes. You'll see redheads riding on old heads and hot whores with their legs over their heads, making up for their partner's lack of flexibility due to his advanced age. There are young babes eating old sausage, and a cute little thing getting double teamed by a couple of dudes, each a couple of generations older than her.