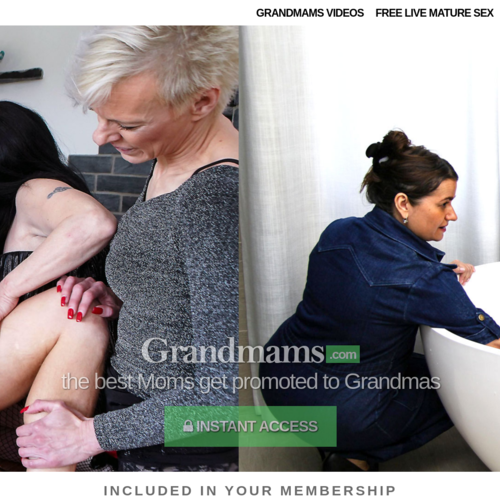 GrandMams
GrandMams.com is a porno site for perverts who think MILFs are just a little too young. The wrinkly old grandmas on the website have been around at least a couple of decades longer, which means a lot more time to practice giving head, bouncing on cock, and servicing a guy with a couple of your elderly lady friends. The site's been around a few years and has carved out a distinct niche for itself, with a couple of hundred visitors cranking their meat to these ancient broads every day.
There's this funny idea that old ladies are these asexual creatures, but just because grandma doesn't talk to you about getting fingered doesn't mean she isn't thinking about it all the goddamn time. Do you realize that nursing home employees are constantly worried the old folks are going to die from fucking all the time? Old people are fucking horny! Old ladies don't have the same impotence problems as old dudes, either.
The high libidos of these gray-haired bitches is on full display on the preview page for GrandMams. Big images from some of their newest and most popular scenes slide by the top of the page. There's an old babe with her robe open, black lingerie exposed, stroking off a young man who could easily be her grandson. A pair of gray hairs double teams a dude outside on a stone wall, and a trio of lusty grandmas gives one college-bound gentleman the experience of his short life.