Old Goes Young review
back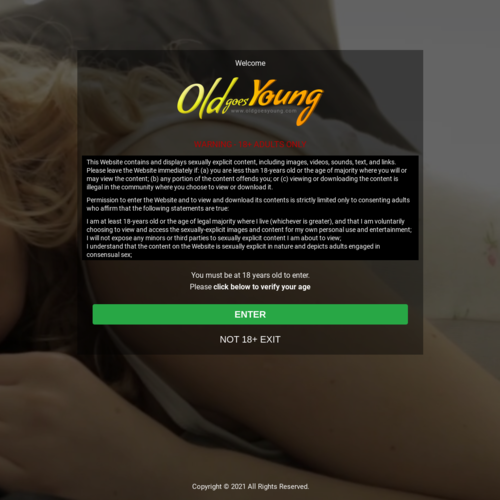 Old Goes Young
OldGoesYoung isn't all that young, as far as websites go. Their first movie, the subtly titled Erotic Teen Chick Sucks Older Cock and Is Fucked by Older Man Who Loves Younger Girls, was uploaded to the site in October 2011. The collection has grown steadily since, with a stash now running in the thousands of movies. That library of old gray hairs fucking young blondes, brunettes, and redheads draws about 5000 viewers every day.
The landing page breaks down the collection into hard numbers. As of this writing, the site has 1,184 girls, 332,666 dirty photos, and 2,248 movies encompassing 3776.64 gigabytes of content. You'd better delete a bunch of your wife's vacation shots if you want to save as much of this grandpa porn as you can.
The landing page also gives you a solid fucking idea of what you'll find in those thousands of gigs of old/young porno. A 19-year-old shooting a masturbation scene is interrupted by a Santa Claus looking motherfucker, who takes her from behind. An athletic 20-year-old spreads her legs wide for an old dude after trading oral sex. Rebecca Volpetti is in one called Home Alone, where a masked stranger comes in to rob her of more than just her jewelry.
I love the contrast between these innocent little babes and these ancient old men in every nasty thumbnail here. A cute black-haired chick is getting stuck from behind by a fat guy, and a wrinkled old dude gets his cock sucked on a couch. There's a gray-haired teacher perving on a teen with a foxtail that I'm pretty sure is attached to a buttplug.