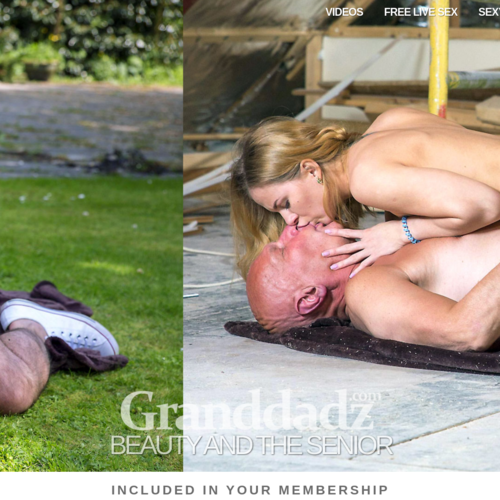 GrandDadz
GrandDadz.com hasn't been online very long, but they're already getting a strong foothold in the world of niche grandpa porno. The site receives about 50,000 visits a month, and while that's a whole lot less than sites like Brazzers, it's pretty fucking good for a bunch of wrinkly gray-haired dudes. You're not going to believe some of the tail these guys are pulling.
I'm looking at the front page of GrandDadz, wondering, who is the primary demographic here? Is it old dudes like the ones in the videos, with new dick pill prescriptions and a newfound interest in Internet porn? Or is it aging dudes, worried they'll get old and won't be able to get laid anymore and need video confirmation that it's still possible? Maybe you're a young dude who really wants to see grandpa bang chicks in your age range.
Then again, maybe most of the visitors here are hot young chicks who really want to get railed by a bald guy with saggy man boobs and jowls like a goddamn bulldog. Yeah, that sounds right, doesn't it? Hey, if you've got enough money in your pockets, bitches will want your cock even if it's a shriveled hot dog, and you've got sewage leaking out of the fucking thing. A few liver spots and some dentures ain't a big deal at all.
The preview slideshow at the top of the page shows some seriously old dudes boning some seriously hot chicks. A beer-bellied grandpa is taking a blonde from behind outside in the grass, and another sweet thing with her lips wrapped around an old man's shaft. One babe is kissing a dude two generations older than her with what looks like serious passion as she rides his junk.