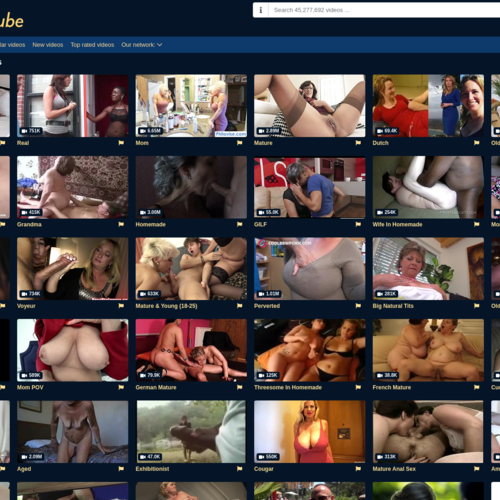 Mature Tube
Trust me, you'll be pounding them in the back seat of their minivan behind a Sear's parking lot faster than you can say "half-priced appliances." These are the kind of ladies that will fuck you into another dimension. That's right, I said "fuck you." She'll be squeezing you out of every last drop and you'll be out of breath, sweating while she's fixing her lipstick and lighting a cigarette. And MatureTube.com is a site devoted to these to these cock-hungry babes!
Mom's, skanks, and cougar's oh my! Mature Porn Tube has been building its extensive catalog of over 51 million videos since 2007 and the site draws in over 31,000 visitors every day. And the site is only growing. It's been on a steady climb in users since 2007 and the sky is the limit and they are continuing to beef up their massive catalog. For a niche site about fucking older women, that's pretty damn impressive.


This site knows what it's about and doesn't fuck around with sleek designs or fancy menus. The front page is loaded with thumbnails for any category you could possibly think of. You've got Amateur MILFS, GILFS, Blowjobs, Voyeur, Shemales, Lesbians, and anything else your desires could ask for here. There's no shortage of crazy shit either. There's BDSM, Slut Shaming, Scat, and all the other twisted shit but with the added bonus of being done by hot, mature chicks.
While the site itself doesn't stream the videos, you get clear thumbnails for each and every video, and the links redirect you to a different site where the videos load in an instant. Nothing kills a good fap like sitting their cock-in-hand waiting for a video to buffer. It also says the site you will be directed to below the thumbnail, so you can click ahead without worrying about sketchy sites.