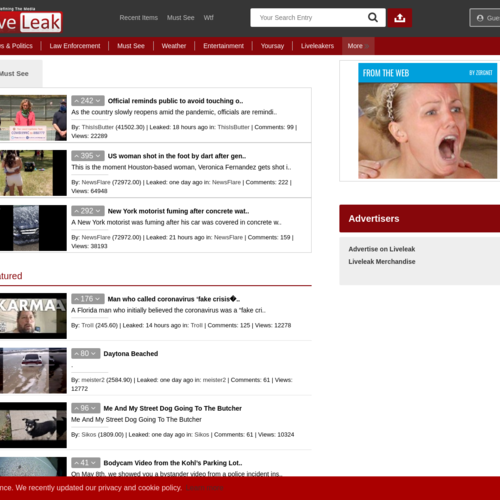 LiveLeak
Want to see some fucked up shit at Live Leak? Are you the kind of person that loves car crash compilations? Do you find yourself taking over the TV and casting gore videos to it, much to everyone else's dismay? Well, I might have the content for you. If you're that extreme in your daily life, then I could probably hedge my bets on you being into some really fucked up porn. Don't worry, there's no judgment here. Just make sure you keep this shit under lock and key. Your friends probably know you're a sicko, but you should still clear that browsing history. You don't want to see too insane, right?
Anyway, I'm talking about liveleak.com. The site that's home to ISIS decapitation videos, viral media, gore, fights, and all kinds of fucked up shit. And this site is pretty huge with nearly 30 million visitors every month. They have been around for quite a few years under different domains, but the content has remained the same.
Which probably leads to your question "What the fuck does this site have to do with porn?" Come on, don't be naïve. There's a ton of porn here. No, it's not your studio shit or even your traditional BDSM fetish porn. It's more content about crazy things that have happened. Like people fucking on the top of the pyramids, or a video of a couple having sex in the street getting run over by a car. Cringe at that one? Then I recommend staying away from this one. It's definitely not for the faint of heart.