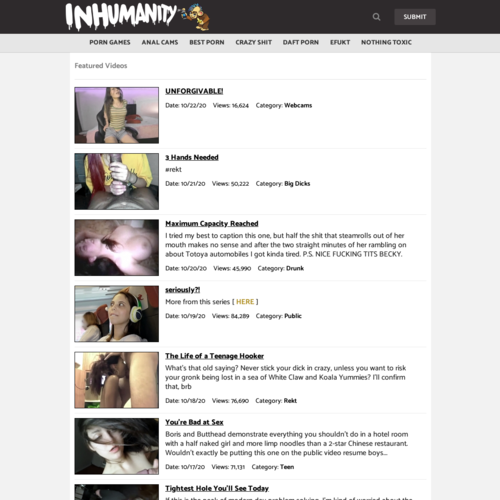 Inhumanity
Inhumanity is a free porn site that has normal-sounding categories like Big Dicks, MILF, and Lesbians. They also have kinkier stuff like Midgets, Cuck, and Incest. If that's simply not inhumane enough, try Animals, Poo Poo, or Freaks. You can also find completely balls-out crazy categories like Wiggers, Terrorism, and Pizza. Yeah, it's that kind of site.
The layout of Inhumanity is simple and straight to the point. Under the site's name in the header are a few outgoing links to other websites. The rest of the page is just content links, the real meat of the site. Most go to videos, but a few go to photos or galleries. Instead of the grid view you find on other sites, there's only one link per line here. You get a screengrab and some basic info, including title, a short description, dated added, views, and category.
You honestly can't tell what you're going to get from most of the videos or pics until you actually click through and look. Most of the stills look like typical porno featuring sexy ladies and sex acts. The titles are vague: Just Do It; Keeping It In The Family; NOPE, Never Doing That Again. The descriptions sometimes help, but usually not. A useless write-up for a video called Actual Wife Material Right Here reads
Well, if it's that fucking funny that the dude is going to laugh out loud out loud, I had to check it out. Clicking links brings you to whatever site hosts the video, pic, or gallery. Actual Wife Material Right Here popped up in a new tab on ORSM, though its title there is I Want A Dog Like This. I clicked the play button and the tab went from ORSM to MyFreeCams, and then I Want A Dog Like This popped up in a fresh tab.