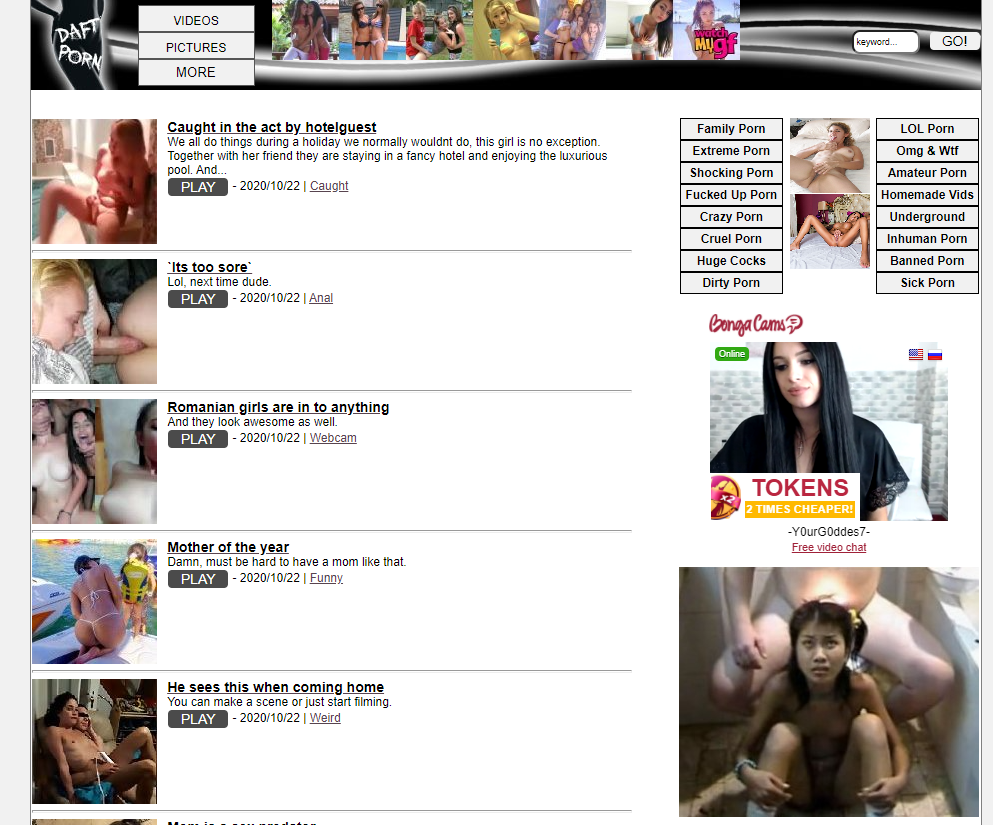 DaftPorn
Honestly, I really like a lot of the content here. It's wacky, it's crazy, and it really gets you going. And when I say it gets you going I really mean it. You're basically going to experience the brunt of Daftporn.com's content head-on and you better be prepared cause there's some weird and crazy shit going on here, and you're going to be a part of it really quickly. Hey, let's check out some of this content and go through it together. It's not that I'm holding your hand through this site, but it totally is like that when you think about it actually.
The biggest problem with the content is that there aren't really categories for it at first glance. Sure, I can tell you that there's a lot of extreme porn on here, a lot of domination, abuse, pissing, throat fucking, etc. But there isn't really a way in which you can check out any of this stuff individually unless you use the search field that's this tiny little search bar in the top left corner of the screen. It's pretty shameful to even look at, but then again most of this website is when it comes to the design, but we'll get to that in a moment.


You might be tempted to think that those tabs on the right-hand side of the site are category tabs and that by clicking on them you'll be transported to the countless collections of videos in that specific category. Well, I understand why you'd think that, but you'd think wrong since all of those are just links to other websites. Basically, they're ads, and that's the last thing you'd expect since they all look and seem like categories. But nope, just ads masked as a functional part of Daftporn.com.
And that's not the end of the story when it comes to deception. After a few banner ads on that side of the screen, there are some other links that also look like categories. Are they though? No, same thing here, these are just links to other websites that are masquerading as categories. For instance, if you click on Creepy videos you'll be redirected to- well I'll be damned… MrPornGeek, I should've known. Yeah, it actually makes sense that he would be in on this crap since deception is the only way he'll ever get traffic to his website.
Enough about that sorry excuse for an omega male. After all, you're reading a review that's written by the biggest alpha male in the business. I mean it's not that I'm bragging, it's just the natural state of affairs here at ThePornDude. Let's move on though since there's a lot more to talk about here. So, there actually is a place where you can see the actual categories of the website. And it's hidden in the most inconspicuous place that's half covered by some stupid ad anyway. We're talking about the Videos tab at the top of Daftporn.com.
When you click on this you'll finally be able to tell what you're dealing with here. And holy crap, there's a lot of sick shit going on here on Daftporn.com. Amputee, Pregnant, Puke, Scat, Torture, these are just some of the things that you'll find as a category here. Yeah, there's a lot more where that came from, so you'll need to explore this stuff by yourself you sicko, and find the category that makes you the horniest. There's none of that vanilla shit here though, so get ready for some extreme stuff.