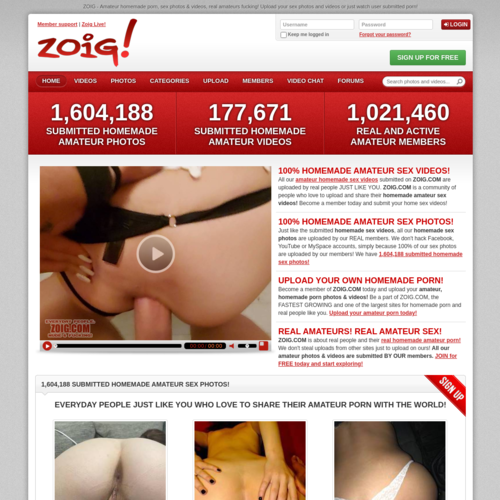 Zoig
Zoig tries to get you to sign up straight off the bat, telling you over and over again that membership is free. Right. Membership is free, technically, but your account isn't much use if you haven't paid for it.
It actually takes a little digging or actually signing up to figure out how much Zoig costs. The basic cost is around $30 a month, though it's cheaper if you buy a few months or a year at a time. I wish they were more upfront about what they were charging for homemade cumshot movies, but the price isn't unreasonable. In fact, it's in line with pretty much every other porn site on the Internet.
There are a few ways to get real access for free, though it will take some kind of investment on your part. The easiest way to get 7 days of access is to take a photo of yourself with Zoig written on your body or even just a piece of paper. Uploading 3 minutes of homemade hardcore earns you a month. Continually adding new material will earn you zDollars, which will keep that membership going.