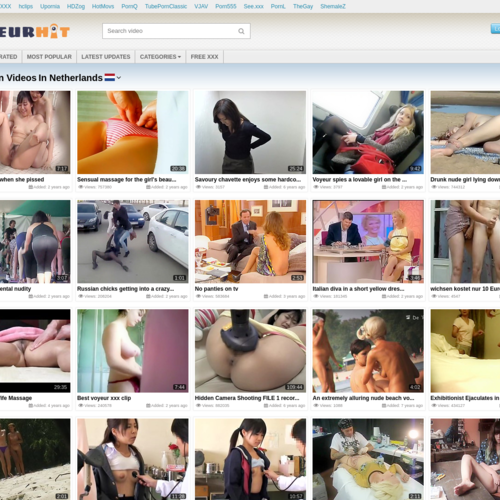 VoyeurHit
Find the cream of the crop in the Top Rated section
Right next to that tab is the Top Rated tab where you'll find some of the best voyeur porn videos on the website. VoyeurHit.com really has great functionality when it comes to rating videos, and since making an account is free just like watching their videos is, the users on this website leave ratings all the time so that you can find some respectable videos that have gone through a thorough examination by the community. If you'd like to help out newcomers to VoyeurHit.com, you can also make an account and start rating videos so that other people know where to find the good stuff.
Oh, but be careful when clicking on the links on this website, including the tabs. There are pop-up ads when you click around sometimes. That is annoying on its own, but what's even more annoying is that they make the current page go to the ad, and actually give you your desired page in another tab. Imagine that, you make me watch the ad on this tab and give me my actual content in a new one. What a scumbag move VoyeurHit.com, not cool.
The most popular videos are often the best ones too
But if we look past that there are some other tabs that we should take a look at here. There's, of course, the Most Popular tab as on any other site where you can check out what's trendy in the voyeur community. You can find some real gems here, and I always say that the most popular things are always good, at least in the porn industry. The only people that I guess wouldn't like the really popular stuff are the ones that enjoy more amateurish content rather than professional content. But that logic doesn't work on this website since most content here is homemade and amateur.
Keep tabs on everything that's new on the voyeur scene
There's the Latest Updates page so that you can come up to speed with the newest stuff that's being done on the website. You never know when the perfect video will be uploaded so keep a watchful eye on this tab if you'd like to be surprised with something nice when you least expect it. It's sort of like Christmas Eve, but it's every Eve and you never know when the presents will arrive. That, and it's a porn site and has nothing to do with the actual holiday. Moving on.