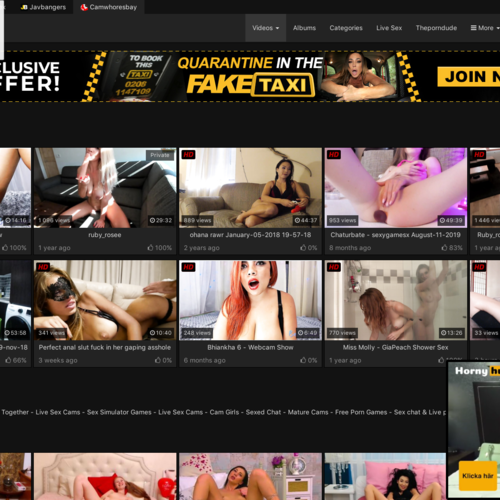 CamWhoresBay
Not the Cam Whores You're Expecting
A friend of mine got pretty hammered at a bar last weekend and chatted up this babe with huge tits. They hit it off and went back to his place for some drunk sex. Dude ended up calling me at 3:00 AM, all freaked the fuck out, when it turned out the broad had a dick. It was the old bait and switch.
CamWhoresBay got me with a similar trick, though the outcome was a lot better. I pulled up the site, absolutely sure it was going to be a live cam whore site where I'd get some slut to finger herself for me. "Cam Whores" is part of the title, so that's the natural thing to expect. Imagine my surprise when I found a site full of pre-recorded bits of amateur porn.
Yeah, like I said, finding a massive homemade porno stash is a much better surprise than finding a big ol' wiener on your weekend hookup. I still feel it's a misleading name. Most of these chicks might technically be whores, and they did record their clips with webcams, but you can't interact with them or anything.
Look, I know it's not an actual bait-and-switch scam. There's no need to trick people into looking at naked young nymphos fucking for the camera, and CamWhoresBay is a free site, anyway. I just would have called it something else. Considering they were briefly called FreeCamBay, they may have had a different business model in mind when they first set up shop.
A Tube, Not A Market
CamWhoresBay's name is a play on eBay, but the site doesn't really have anything else in common with the big auction site. Load up the site and it looks like a typical porn tube, it just happens to specialize in amateur babes.
The very top section of the front page is a couple of rows of clips Recommended For You. Obviously, this feature only works if you visit enough for the site to get to know what you like. If you're new, you'll probably get a bunch of solo masturbation scenes with a blowjob here and there.
Below the Recommended clips are Recently Added ones. It gives you a good sense of how fast CamWhoresBay is growing. In the past 24 hours, about a hundred new videos have been added. There are 35 vids per page, and the collection goes back 2777 pages. That's nearly 100,000 clips, which is not fucking bad for a site this young.
While CamWhoresBay is not a cam site in the traditional sense, the majority of the clips are amateur whores fooling around in front of a webcam, usually alone. It's almost exactly the type of content you'd expect from a cam site, minus the live element.
There are some obviously professional scenes scattered throughout the collection, but not too many. It's not like some "amateur" sites where a bunch of recognizable pornstars pretend it's their first time or they're getting revenge on some limp-dicked boyfriend.
A dropdown Video menu in the header lets you sort the scenes by Top Rated, Most Viewed, Playlists, and Tags. I checked out Top-Rated to see what's hot on CamWhoresBay.