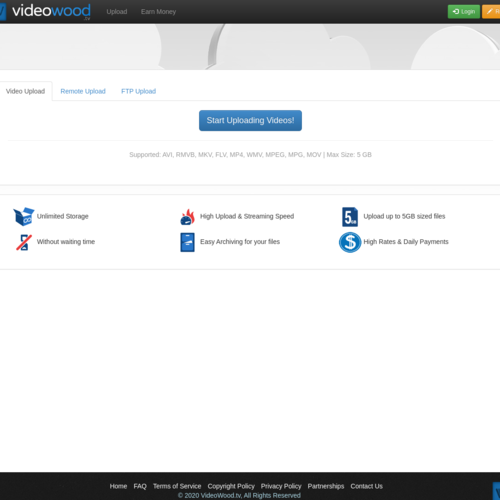 VideoWood
Probably the most important thing is the fact that you'll get unlimited storage on VideoWood.tv. Just by making an account you're giving yourself endless storage space and you can upload as many videos as you want to without paying anything. In fact, you're the one that will be paid on here if you get enough traffic on your videos. All you have to do is keep those views rolling and you can expect your wallet to be topped off on the daily. Yeah, you heard me right, this place is going to pay you daily if you're getting enough views.


It's hard to make it in the world of porn these days though, and you need to get so many viewers on your videos if you hope to make a buck. Basically, you're going to need to pull yourself by the bootstraps and upload a ton of videos and you're going to need to be able to get those videos to enough people if you hope to ever see any passive income. You can expect only one thing out of the whole ordeal, and that's that it won't be easy since the internet is so saturated with porn videos right now.


What you are guaranteed though is that your videos will stay up as long as they're active on VideoWood.tv. You just need one viewer on your videos every 30 days and you'll have it stay up without paying anything. That's just fine if you ask me, and if you're so bad at the whole game that you can't even get one view every 30 days, then you don't even deserve to be in the entire porn business if I am to be completely honest. Go back to working at Starbucks if that's the case cause you ain't making it here.


But for all of you entrepreneurs that know what you're doing, VideoWood.tv is the perfect venue to expand your income. With enough hard work and a little bit of luck, you're going to be getting viral videos left and right. And you only need to make people watch 20% of the video for it to count as a view. You already know that the correct strategy will be to download as many shortish pornos and get a lot of views on those. Just make sure that they aren't too short cause that could count as cheating the system and you can get banned for that.