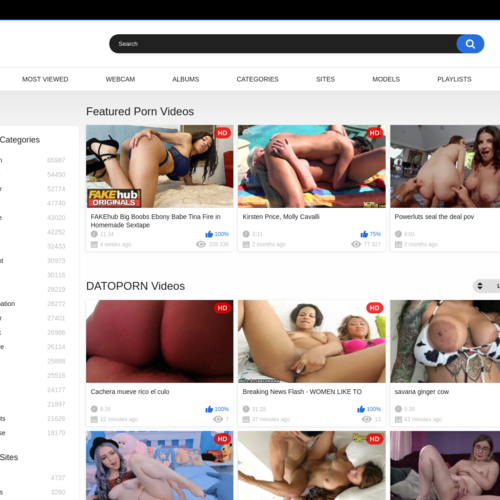 DatoPorn
Today is yet another day when I come bearing goodies that occur in the shape of Datoporn.co, a free source of porn covering all your twisted fantasies. It is basically a porn tube, but with one twist, the materials here are user uploaded. There are thousands of free fuck flicks uploaded by porn-loving freaks who know their filth like the back of their hands. Does it sound like somewhere you'd spend a boring evening? Keep reading.


I start DatoPorn's review on a negative note; the ugly ass design. Wait a damn minute, who even names their site Dato Porn? The first thing I saw when I landed here was the bright background that certainly won't do you any favors if you are browsing at night. I'm assuming all my readers are productive people that have no time to watch porn during the day. Like I've said time, and again, all porn sites should be compelled to have a dark mode feature. After all, you don't want to lose your sight in the process of losing your sperms, do you?
DatoPorn looks pretty dull and is as attractive as the STI infested whore you got from the backstreets last night. I don't mean to brag, but they could learn a thing or two from The Porn Dude. Anyway, content is presented to you in thumbnails that are unfortunately not animated, and you have no choice but to click the thumbnail open to see what's inside. If this is a consolation, thumbnails show the date of upload as well as length, and most of the uploads seem to be full-length videos, some running for almost 3 hours! Good luck surviving the fap marathon. Also, you can sort the videos by featured, most rated, and latest.
The lack of aesthetics aside, DatoPorn is actually a pretty simple porn site. They have a header with multiple tabs that include Categories, Make money, and Premium. On the top right is a basic search feature and options to register, which you will have to if you are keen on uploading videos. The site could do a lot to improve the site design and overall outlook, but at least it is not cluttered, and there are no flashy banners on the main page.