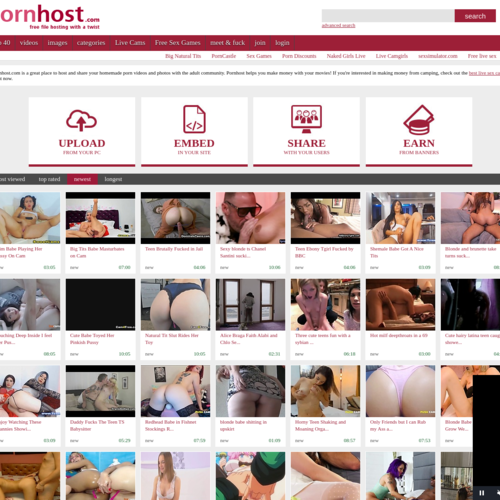 PornHost
It's a real treat to be on this site because you know that all of these amazing videos and photos were uploaded by people just like you. They too have been collecting porn for a long time in their 50GB large homework folder on their desktop, and now they're sharing it with the world. It's like a movement, and it's pretty endearing to witness. I'm almost gonna tear up from all the emotions when I see the next Anal hardcore porno set that's being uploaded.
So, as I already mentioned, there's plenty of content to choose from and there are not a lot of difficulties when searching for it. You can find whatever kind of content you want with a few clicks of your mouse. In fact, PornHost.com is one of the simpler porn sites that I've seen on the internet as of recent. Newer sites like to add a little flavor to their design, but PornHost.com is keeping it old-school and you won't need to worry about anything too fancy on here. Just a few tabs and you're on your way.


The design is simple, to say the least, we could call it minimalistic, but it isn't just there cause of how dated it looks. Not that it looks that bad, but it definitely looks uninspiring. The colors are bland, to say the least and the whole place looks like it could use a makeover. The upside is that all of that simple design is going to load fast no matter how shitty your internet is. Heck, you could be in the middle of the Arctic and you'd probably have good loading times for PornHost.com.


Alright, so design aside, what can we say about the layout? Well, everything seems to be in its proper place, and there's no stupid Home button either. Instead, you can find everything in the few tabs that you'd usually expect to see as on any other porn site. The only difference here is that you've also got the option to upload your own content as well as download other content that you find on here, so that's always a plus.