The Habib Show review
back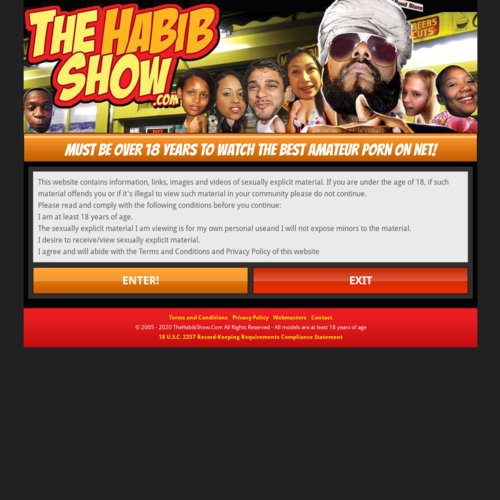 The Habib Show
TheHabibShow.com has been pornographically documenting the sexual exploits of Habib and friends since 2005. The former convenience store worker continues to live the dream and make videos about it, which is why the site has managed to stick around so long. All these years later, they're still getting over a thousand visits a day.
The landing page has a certain wild, and raw feel that you don't get from most premium sites. Part of that is just the age of the site shining through; the layout is pretty fucking outdated, though it doesn't have the jarring ugliness of other older sites. Its ugliness is all its own, and honestly? I think that's part of the appeal.
One of the things I like immediately is a vibe that straddles the line between amateur and professional. There's a lot of handheld gonzo-porn videography in the samples out front, and I'm not seeing any familiar faces among the Ebony beauties getting filled with cock in rough, raw, wild videos. It could almost be some pervert's personal homepage where he shares his home sex movies. Habib even has a public phone number listed near the top of the page. Ladies?
I do see one familiar face, but it ain't on a babe. The illustrious Ron Jeremy has apparently slung his dick for TheHabibShow, double-teaming a hot Latina with a younger porn stud. His hideously ugly mug always adds legitimacy to these things, immediately elevating the whole production to a star-studded event.