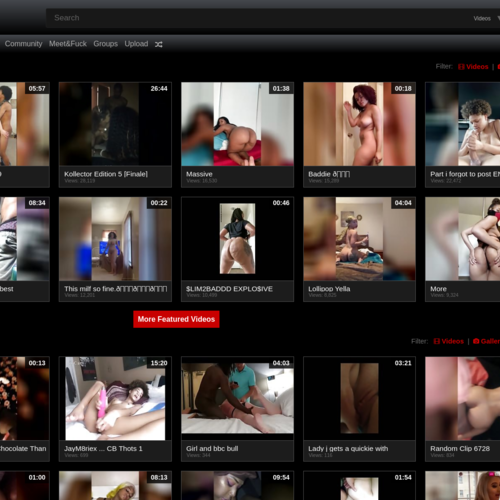 ShesFreaky
There are some interracial, white, and Latina videos on here as well, but they are about as common on SheFreaky as black videos are on, say, Redtube. She Freaky is more a celebration of black sexiness than it is anything else. Really, though, it all boils down to what the users decide to upload.
From the moment you land on the site's homepage, it has a familiar layout typical to tube sites—search and site navigation bars up top, then featured videos and recent videos below. Easy enough to navigate, and pretty well-organized. As you start to explore the content, you realize that they really aren't bullshitting. Everything on this site is user-uploaded, and most of it focuses on ebony and Latina chicks (with the occasional snow bunny here and there).
A lot of what you'll end up finding on She's Freaky are self-shot videos of girls making themselves cum with vibrators, or riding dildos on camera. But there are plenty of homemade sex videos, and girls dancing and showing off their crazy bodies as well. A little bit of something for every homemade porn lover.
As you may already know, one potential pitfall of a site with all user-uploaded, amateur content is quality. She's Freaky, though, has refreshingly high-quality homemade content! I absolutely love this. Users seem to, generally, put effort and thought into the videos that they shoot before they upload them.