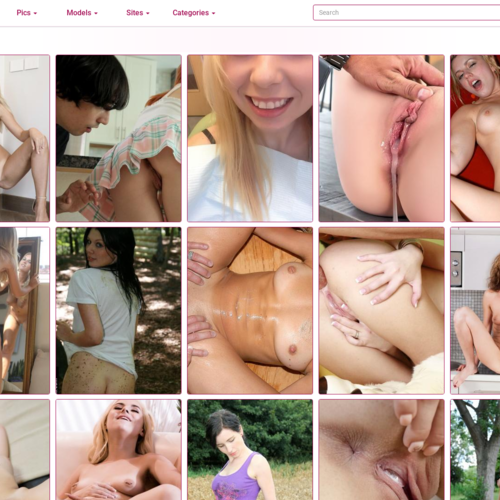 Coed Cherry
This site is simple and clean. When you head over you are greeted with a whiteish-pink background and a page full of high-quality pictures of college girls doing all sorts of sexy things. The page initially sorts by the newest to oldest content on the site. It actually shows you what pictures were uploaded on each day of the preceding week. But if you want to switch up that order you will have to pop over to the "pics" page where you can sort by newest, popular, or just randomly jump to a gallery.
All of the previews are big and easy to see. It's hard not to get lost just scrolling through and checking out all these mouth-watering, dick-hardening babes. The page itself looks so clean because there is no information on the page itself aside from the pictures. No picture counts, titles, model names, or anything at all. It's a bit jarring at first and you can easily get confused, but there is a bit of a solution to this. If you hover your cursor over the preview you will get some sort of title. Sometimes the title will have the model's name in it, but oftentimes it just says something like "brunette teen masturbates with pink rabbit." Not very specific and the previews themselves are static and don't flip through any of the other gallery images.
If you aren't really feeling the lineup on the front page or pics tab, then you can actually narrow your search down by going to their "Models," "Sites," or "Categories" pages. Let's start with the models' tab. When you got to the tab you can sort out the models by newest, popular, A-Z, or jump to a random one. You can also search exclusively on the model's page, which is handy feature for finding content from your favorite model.