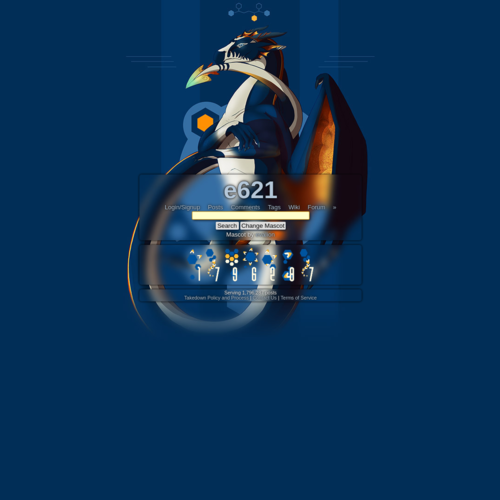 E621
Excellent archive of hentai pictures
If you are a big fan of hentai porn, you should know the portal named E621. The design of this site is pretty simple but it contains thousands of hot hentai pictures for all tastes. This is one of the best porn sites with great hentai collection on the whole Internet! Everything is perfect on it. Its layout is really useful. You will not see anything else but content and necessary search instruments on pages. There are not many ads and other annoying elements. Blue design isn't an unforgettable one but you will get familiar with it very soon.
Let's see what we have here. Main page of E621 has just mascot and the search bar. When you enter any other page, you see a lot of options on top. If you want to dins appropriate porn images, use search bar and tags. If you will browse random pages and posts, you will meet a lot of various sex pictures that can excite or even shock you. It's impossible to be a fan of all insane subgenres of hentai niche at the same time. Each picture can be opened full size or downloaded. Create a huge collection on your desktop and enjoy favorite porn pics even without Internet connection.
Each video has rating and score. Choose a video to see what options you get. You should get a free account if you want to rate, comment, upload, and add pictures to favorites. I forgot to tell you that everything is shared for free. Isn't it a miracle? There are some other ways of sorting hentai photos. Check the left sidebar. There is a list of tags. I am sure it does not need clarification. Click on tags that tease you most of all and have a great time. What about mammal, anthro, solo, breasts, canine, candid, smile, pussy, open mouth, butt, and many others? Are you excited? Not yet? Then open the page of Tags and find keywords and tags of your tastes. The site is so big that you will always find what you need even if your tastes are very specific.
What else can we see on E621? There are Notes, Pools, Sets, Blips, Wiki, Chat, and Forum! OMG! There is a huge community of dirty-minded people who create, post, watch, and comment on the dirtiest porn pictures on the web. Their crazy sexual fantasies have no limits. Incredible variety of porn images proves it. Useful settings help you add hentai pics to favorite list or blacklist that is very comfortable. Okay, everything is at the highest level. You can leave a request and, maybe, someone will create a porn picture for you. This is the power of a huge and friendly community. Also, site gives you a possibility to change the background. I have just noticed it in the right corner. There are two options Base and Extra. It will make the site look different but, anyway, not perfect.
E621 is a great source of hentai and manga. A huge number of ero comics made in Japan and other countries are waiting for you in free collection. High-quality images are presented for online watching and free downloading. I am sure that you will love this site for sure. If you are one of big fans of manga toons and anime porn, this free site can satisfy all your needs at easy. You will find here all kind of porn pics that even exist. All possible genres and categories are presented on E621. You will be amazed to find such tags like Nintendo, my little pony, tongue out, genital fluids, and many others. Everything depends on your tastes. Be sure that you will find anything related to hentai on this free site. Are you interested in community? Okay, there is a special forum for all fans of this site and pornographic manga. Moreover, there are Wiki and Chat that will help you kill the time and get necessary information. Don't forget that site has some rules that you should follow if you don't want to be banned. Site logs and stats are available for those who is ready to work hard and make E621 even better.
Content updates are big and permanent. Artists work hard and upload fresh galleries very often. You will always find something new on this site. Just use searching engine with a lot of special options to find exactly what you want for absolute satisfaction and relaxation. There is a support center that can answer all your questions. Busty girls, tentacles, monsters, and giant dicks are waiting for you! This site makes you forget about real world and dive into fantasy. Don't miss amazing opportunity of watching exciting hentai pics without paying a penny. Satisfy your hunger for Asian ero cartoons right now! I rarely give such an assessment but this free hentai porn site is amazing and you should have it in your bookmarks even if you are not a fan of Asian sex cartoons.