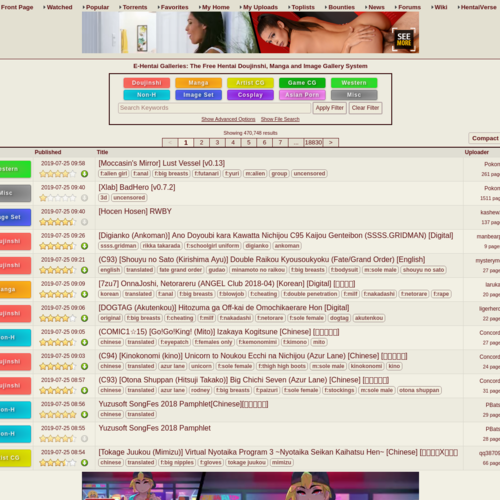 E-Hentai
The biggest online archive of hentai
How do you think, can an endless collection of porn comics exist as an online portal that shares everything for free and has permanent updates? It sounds fantastic! E-Hentai.org is the answer to this question. This website exists for two decades and it contains an unbelievable number of manga and porn comics. All kinds of Japanese comics for adults appear here and are available for reading and downloading with no limits. When I say all kinds, I mean exactly all kinds. Just imagine hundreds of thousands of galleries. It's impossible to read them all during one lifetime. Endless collection is able to satisfy tastes of all users. This hentai torrent site is a miracle! The most popular and the largest hentai and doujin site on the Internet is waiting for your attention.
This site works not like most of other sites from the same niche. It is based on search engine but not lists of categories. You need to get familiar with its features. Right after that, you will have only positive experience on E-Hentai. Users don't stop uploading fresh content so why this site grows permanently. Use tags and keywords to find exactly what you need. If you can read only in English, don't forget to add this keyword when searching.
That is why there is a comfortable filter system. You choose and combine options: Doujinshi, Manga, Artist CG, Game CG, Western, Non-H, Image Set, Cosplay, Asian Porn, Misc, and add search keywords. It will help a lot to find appropriate content. You can use a lot of advanced options and even file search. Have you ever seen something like this before on a porn site?
When I use this site, I see some similar things with 4chan. E-Hentai has the same torrent list scheme and some similar colors. This site isn't about a stylish design. Its main goal is to provide you with the appropriate porn as soon as possible. Rating helps you find the most popular mangas. Believe the tastes of other users and enjoy the top-class content.
Most of galleries can be downloaded as torrents. Users can add preferred porn comics to Favorites to not lose them. Each user can upload own manga. That is why E-Hentai has so many updates. Toplists, Bounties, and News are waiting for your attention, too. If you are using an old device or your internet connection is not good, use Lo-Fi Version of the site. There is a link to Hentai Minigame on the bottom if you want to have fun a little bit. This site has its forums and twitter so you can become a part of its community. It is a great possibility of connecting with people who have the same preferences and interests.
E-Hentai has a huge and very active forum. Users discuss how to make the site even better there. Also, there are a lot of mainstream topics. Perverts are in need of socialization so why they decide to get acquainted with new people on a site that shares tons of porn comics. That's funny.
Welcomes to the world of fantasies! Here you will see what kind of dirty and crazy minds can have the authors of Japanese manga galleries. You will admire girls with extremely huge boobs and asses. Their vaginas are very juicy. Boys have immense boners that can bring to their partners unforgettable sensations. Monsters, tentacles, fantastic creatures, super-hot futanari girls appear in absolutely amazing images that will turn you crazy. This is the best collection of hentai, manga, and porn image galleries.
Monstrous collection contains so many porn comics in diriment languages, styles, and genres! When you enter this site, you understand how naughty and dirty-minded people are. Here you can find not only hentai but western porn, too. It is an important advantage because usually, sites for adults share hentai or western porn comics but not both of them. Tags system is awesome on E-Hentai. It really helps you find something specific in a moment. You can indicate what girls are wearing, their body forms, and the type of sexual action. There are no limits. All your fantasies can come true thanks to unforgettable porn comics. I think it's impossible to compose a porn story that isn't already presented on E-Hentai. The torrent section is absolutely amazing.
Don't forget to use search engine because a random manga, probably, will not satisfy you. Over fifty languages, styles, and genres are mixed and presented in endless user-generated archive. It means you should use tags and keywords to find something that fits your tastes. You can meet here even some non-porn content. The conclusion is that you should know how to use E-Hentai to get maximum pleasure and reach absolute satisfaction.