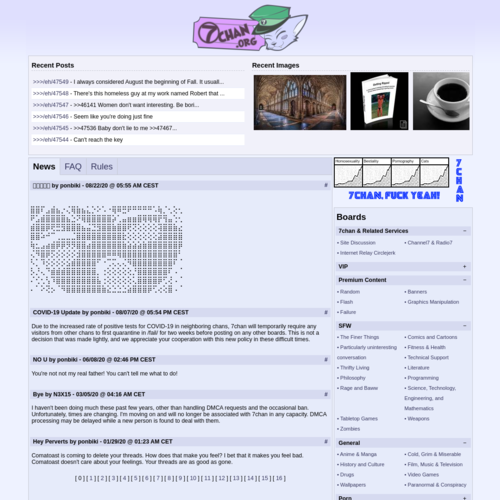 7Chan
7chan is not your typical XXX tube, as a matter of fact, it's not your typical website either. This website looks admittedly confusing at first glance with all its text and the random assortment of recently uploaded images that it has on its home page. But it's really not that hard to use – once you've had your fill of the randomness that is 7chan's homepage, you can get to fapping by picking any one of its porn-themed boards. They can be found on the bottom-right of the homepage and will need to be expanded by using the '+' button that's far-right from the 'Porn' title.
Once you do this and bear witness to the kinds of XXX-themed boards this site has, you can easily start to picture what the average frequenter of 7chan looks like judging from the kind of porn that this sit mostly has. There are 16 porn-themed boards in total, and most of them focus on different kinds of Hentai as well as transsexuals and homo-erotica – I know, it's a weird little place that would surprise even the most seasoned masturbator, but trust me, there are some hidden gems here that are very hard to find on other XXX sites.
Boards for Hentai LoversSince most of this site's porn-themed boards seem to focus on Hentai, it's only natural to give you a rundown of exactly what kind of Hentai themes they focus on so you don't have to waste your precious time browsing around aimlessly (after all, you've got some fapping to do). The 'Delicious' board doesn't contain your typical Hentai – this board is nothing more than a collection of Hentai porn images featuring young anime girls, which is known as 'Loli'. And I don't mean legally young too – the girls featured on this board are all clearly underage, which effectively makes this CP (except it's not illegal because it's just drawings).
Next is the 'Alternative Hentai' board, which per the site's self-made description is as follows: "This board is for drawn porn featuring fetishes or situations that would not be appropriate for the other vanilla porn boards". Then there's the all-purpose Hentai board, which is aptly titled 'Hentai' and contains, well, nothing but Hentai. Then you have the 'Shotacon' board, which is Hentai that depicts young boys (mostly underage) involved in all kinds of sexual situations. Lastly, there's 'Straight Shotacon', because most of the stuff in the aforementioned 'Shotacon' board is gay. That's about it for the Hentai-themed boards, but there are more drawn-porn boards on 7chan than just those…