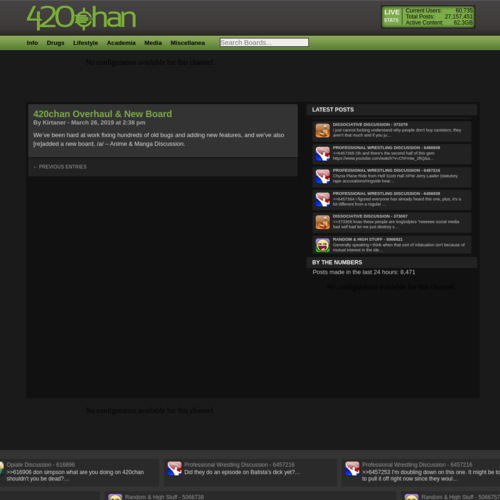 420Chan
Of course, this website doesn't just operate for your enjoyment and there are some rules that you need to follow when you venture into this website. 420chan.org has them clearly written whenever you go to a section and want to look at the content or even interact with it like every other user on this website. The key thing here is that this place is based on interaction and this interaction is always protected by your anonymity. This doesn't make you invincible though and 420chan.org can ban you at any moment if you end up breaking any of their rules.


But before I end up sounding like the no-fun police, let's look at all the cool shit you can do on here, especially when it comes to adult content. Sure, you've got all your dank and edgy sections on here, but what we're really interested in is the Adult section since that's where all the good stuff is. There are three different subsections here and those are the Straight, Gay, and Hentai subsections. Each one of them gives you the content that you'd expect since the names are pretty self-explanatory.


You'll find these when you scroll over the Adult tab over in the top navigation bar. You'll get a drop-down menu and you can quickly decide where you want to go from there. Whatever section you end up choosing, you're going to be greeted with an onslaught of content pretty much immediately. 420chan.org lets a lot of twisted stuff in apparently as long as it's in the confines of legality. Wouldn't want to get into any trouble now, would they? I don't blame them, some of the things you guys come up with when you're completely anonymous is pretty terrifying, to say the least.