EscortNews.COM review
back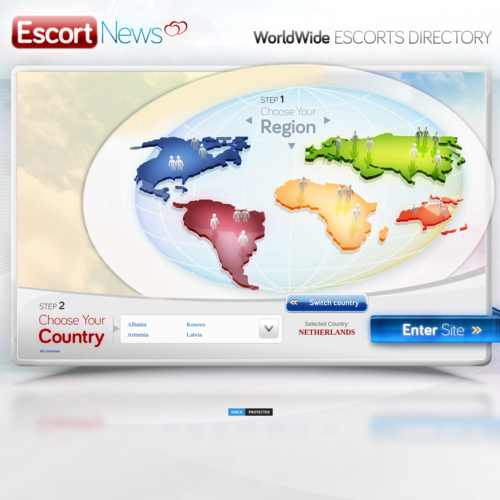 EscortNews.COM
Choose country, girl, and have a hot date
Men don't like to be left alone without female care, attention, and love. That is why escort services exist. This is something more than just sex for money. You pay an escort girl for her attention and communication. It's not easy to find an appropriate girl. When you come to a foreign country alone, this goal becomes almost impossible to complete. That's why escort services are so popular. Men want to meet appropriate females, have a date and spend a wonderful night. Nowadays, it's pretty easy to find a callgirl. All information is placed on the web. One of the best escort sites is EscortNews.com. It shares necessary information about escort chicks and agencies from all over the world. Let's see how helpful it can be.
When you enter EscortNews.com, it offers to indicate the country. If you skip this option, the site can do it automatically by checking your IP. Sometimes, it is not useful. For example, when a user is situating in the home county and planning a trip to another one. Anyway, the main page looks great. I love it. When you enter the page of indicated country, it immediately shows you which cities are available. Usually, those are the biggest cities but not small towns. You will find the list of callgirls below. Each profile contains a lot of information about the girl. There are verified pictures, rating, ethnicity, nationality, gender, age, language, and orientation. Also, there are indicated such parameters like height, weight, hair color, the size of boobs, pubic hair, and eyes color. Outcalls and Meeting with options are very important. Check if a hot escort girl is ready to come to your place or isn't against date with a couple. Tags and description will help you get more information about callgirl and decide if you want to meet her. There might be a phone number. Call a girl, send SMS or contact her via WhatsApp and Viber. It's pretty comfortable. You get all contacts for free.
You can create a free account on EscortNews.com. It will give you some extra features. For example, you can follow or add to favorites a hottie. Like or dislike models on the site. Also, you can post reviews about your experience with the escort chicks from the site or just leave some comments. The site works in many languages but not only in English. Switch the versions in the left corner on top of the site. There are listed Italian, French, Greek, Russian, Turkish, Dutch, Swedish, and Romanian. It is a pretty long list of available languages. You can contact the customer service if have some questions or suggestions. All profiles of escort models can be sorted by some useful categories. The first one is Travel Girls. It is a very useful category. If you are planning a touristic trip and don't want to be alone, just find an appropriate travel girl who will follow you everywhere. Any single male can find a perfect companion for his trips. Just imagine how cool is to travel with a beautiful, friendly, and cheerful girl! This is a great option that shows the difference between prostitutes and escort girls. City Tours is something the same as the previous category but inside a city. Travel girl will be ready to go across the world with you. Escort girl from City Tour category is ready to show you all attractions of her place. There are not only girls on the site. Some escort boys and trans are ready to date you. Everything depends on your tastes.
This worldwide escort directory has something more than just profiles of escort girls. You can find information about new arrivals, agency escorts, and independent escorts. If you are interested in fresh-faced escort girls, choose category New Arrivals. An important section is Agency Escorts. There you can find contact information of escort agencies that will help you choose and date the most appropriate girls. The opposite category is Independent Escorts. Contact a hottie directly and have fun.
So, in conclusion, I can say that everything works pretty simple on EscortNews.com. You just choose a county, city, find the most beautiful girl, read all the information in her profile, and book her. Watch all those super-hot pictures! Those girls look like models and pornstars because they are. Make all your dreams come true thanks to perfect escort service. You will see a lot of magnificent ladies on the site. Don't forget that all of them will be happy to meet and satisfy you. Everybody deserves a night with a goddess of love. Don't postpone a date with a marvelous girl. Give yourself a chance to be happy. This escort site can help you with that.