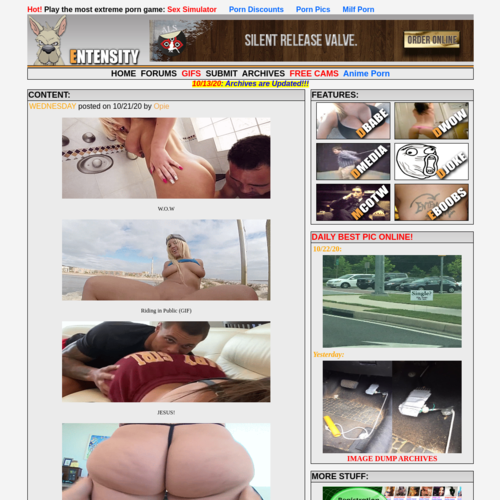 Entensity
Entensity.net a site that has a bit of everything for everyone; a sense of humor, erotism and obscene stories has been around for over 16 years now. While the owner is anonymous, the website is located in the United States. Currently, the website's estimated value is $109019.32. This website is deemed to be popular by Alexa with a ranking of 23892 globally and 5865 in the United States.
Well, we fucking get that the site was designed over a decade ago and may have looked way better than their mate's but, right now it seems shitty. It's almost like it is displaced because it is not only bare and extremely basic, but it is also pretty much confusing. Also, the Ads and pop-ups make it look even uglier.
As for navigation, it is not any good; apart from the links that seem to work quite alright, there are too many sorting features, no search engine to assist you in narrowing down on any content and even worse there are categories or tags to help you sort out the erotic photos and videos available. And frankly, I don't even understand why they used a donkey on their logo; almost feels like users are the donkeys since they have presented them with a tough task of trying to sort out shit they should have in the first place.